Nodegrid Serial Console ™
The Next Generation of Serial Consoles have Arrived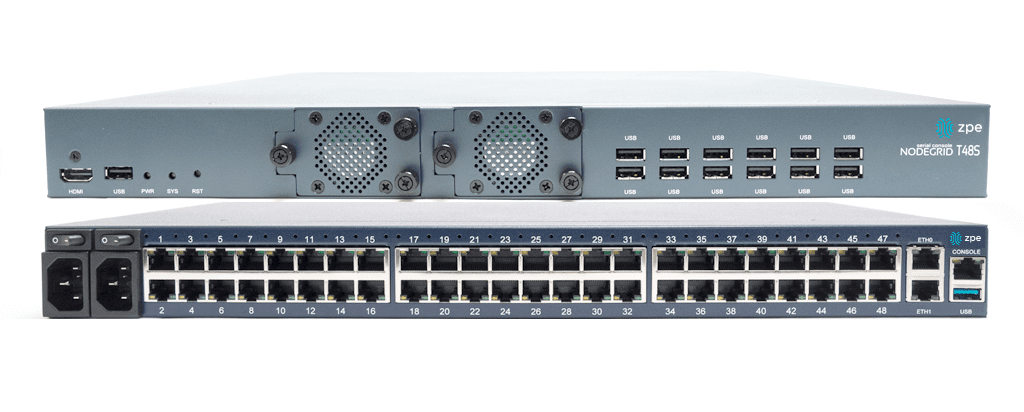 ---
Overview
Nodegrid Serial Console helps data center managers improve productivity and reduce MTTR costs with the latest technologies. The world's fastest serial console server also sports industry-exclusive system configuration security checksum™, bare metal booting and recovery capabilities, and Docker readiness.
No competing product comes close – that's why it's the best serial console solution available. IT staff can manage more devices with fewer cables, IP addresses and configuration time using our industry-exclusive 1U 96 port serial console server. (Patent No. 9,905,980)
All Nodegrid Serial Console servers consolidate and manage attached devices via a Serial Port Connection including: servers, network routers and switches, storage, PDUs, UPSs, and any other device with a serial port.
Modern 64-bit Linux OS
World's fastest serial console server
World's highest concurrent session in a serial console: 1,000+ sessions
World's fastest concurrent port speeds in a serial console: 115,200bps and 20 users per port
World's first high-density 96 port 1U serial console server, also available in 16/32/48 port editions – (Patent No. 9,905,980)
HTML5 remote console access – no Java issues unlike outdated competitors
World's first serial console server optimized for Docker and Open Compute Hardware Management
World's first serial console server with bare metal booting and firmware recovery
Zero Touch Provisioning and failover to any cellular service provider of your choice (no vendor lock-in)
New, easy-to-use software development kit for software innovation
---
Features
Nodegrid Serial Console (S Series)
Made to fit any modern and legacy mixed environment. With auto-sensing ports you can use the S Series Console Servers within any environment whether using straight through cables or with legacy adapters.
Auto Switching (Cisco or Legacy Pin-out)
16/32/48 Serial Ports
Additional USB ports
Upgradable CPU and RAM
Single AC, Dual AC and Dual DC
Learn More
Nodegrid Serial Console (R Series)
Made to fit into major hardware environments like Cisco, Arista, Dell, Palo Alto Networks, and Juniper. R Series Serial Consoles are perfect for retrofits and upgrades of existing builds.
For Cisco Pin-out Devices
16/32/48/96 Serial Ports
Single AC, Dual AC and Dual DC
Learn More
---
Applications
Here's where customers are using Nodegrid Serial Consoles:
Specifications
Hardware Specifications
CPU
Intel Dual-core x86_64 CPU *Upgradable to Quad-core x86_64 CPU
Memory
4 GB of DDR3 SO-DIMM DRAM, 8 GB optional 32 GB SATA SSD, 64 GB+ SSD optional
Interfaces
16, 32, 48, or 96 RS-232 serial ports on RJ45
2 GbE (10/100/1000BT) ports on RJ45 or 2 SFP+ Fiber/Copper ports (1/2.5/10 GbE compatible)
1 RS-232 serial console port on RJ45
1 USB 3.0 Host on Type A connector
2 USB 2.0 Hosts on Type A connector
1 HDMI output port
Note: Nodegrid Serial Console T48S comes equipped with 13 USB 2.0 ports.
Warranty
2 Years
Software Specifications
Port Access
Direct access by port name, TCP port, device name and IPv4/IPv6 address
High performance port login: <1 sec on SSH, <3 sec on Telnet
1,000+ sessions: 20 concurrent users / port @ 115,200 bps on 48-port model
Port sharing Command line interface (CLI)
Port custom field support, port icon configuration, port search
Serial port clustering across multiple serial console servers
DeviceURL™ instant bookmarks, FireTrail™ secure tunnels
Break-over SSH support
Compatible pin-outs for Cisco and Cyclades serial ports
Power Management integration within serial session
System Management
Extensible automated control based on actionable data, Web GUI management, command line interface (CLI), Linux root shell
IPv4 and IPv6 dual stack with IP forwarding support, Multi Routing Protocol, DHCP (client/server), Network Failover and Network Bonding (back-up & round-robin)
Additional Network Failover to 4G/LTE cellular modem via USB WI-FI hotspot (server by default or client) via USB Fine Grain with multiple and customizable user levels of access
Auto-discovery of devices via network scan Auto-discovery of attached serial devices (hostname discovery)
Custom field support Search for any device information, including custom fields, to quickly access your device
Geo Map coordinates NTP support, global time zone support
SNMP
Zero Touch Provisioning (ZTP) for configuration and firmware updates
Thermal self-protection capability Vendor-neutral hyper-converged console management solution
HTML5 viewer (serial console, embedded KVM via IPMI and KVM) – no Java.
Support for Docker application integration
Monitoring capability via SNMP, IPMI and SSH with custom support
Orchestration Integration: Puppet, Chef and Nodegrid Manager
Access Protocols
HTTPS, SSHv1 and SSHv2, optional HTTP and Telnet
Device View Options
Tree, Table, Geo Map, Node and WEB with NodeIQ™ natural language search
Managed Power Devices – Out of Band
Cyclades/Avocent, Legrand/Raritan, ServerTech, Emerson/Liebert, APC/Schneider
Security
Built-in TPM (Trusted Platform Module) X.509 SSH certificate support, 4096-bit encryption keys
Selectable Cryptographic protocols for SSH and HTTPs (TLSv1.2, TLSv1.1, TLSv1)
Cypher suite levels: high, medium, low, custom
Local, AD/LDAP, RADIUS, TACACS+, Kerberos authentication Local, backup-user authentication support
Group/role-based authorization: AD/LDAP, RADIUS, TACACS+
Port access, power access, appliance privilege
Firewall via IP packet and security filtering
User-access lists per port
SSL VPN – Client and Server IPsec with support for multi sites
System configuration checksum™
System event syslog
Configurable IP forwarding support
Custom security with secure default settings Strong password enforcement
Data Logging
Local port buffering – 20MB per port Local, NFS, syslog, off-line data logging Time stamp and rotation for data logging
Event Destination
Email, syslog, local
Alert Notifications
Syslog, email
Software Delivery Format
Installed out-of-box Downloadable upgrades with support for PXE boot, network upgrade, ZTP upgrades
Operating System
Built-in 64-bit Linux kernel 4.x and Yocto-based CustomKit™ SDK
Infrastructure Specifications
Power
Single or Dual AC: 100–240 VAC, 50/60 Hz Dual DC: 42-63 VDC Typical Power consumption 45 W (on 96 ports)
Alarm
Buzzer mounted to PCB for audible alarms. Alarm will sound if one of the power supplies is OFF. Alarm operation should be configurable.
Physical
Front and Rear mounting brackets Dimensions (L x W x H): 443 x 312 x 43 mm (17.4 x 12.3 x 1.7 in), 1U Weight: 4.9 kg (10.8 lb), depending on options Shipping weight: 9.5 kg (20.9 lb) Shipping size (L x W x H): 600 x 440 x 210 mm (23.6 x 17.3 x 8.3 in)
Environmental
Operation: 0 to 50° C (32 to 122 F), 5-95% RH, non-condensing Storage: -20 to 67°; C (-4 to 153 F), 5-95% RH, non-condensing
Safety
UL 60950-1 (USA), CSA C22.2 No. 60950-1 (Canada), EN 60950-1 (EU), IEC 60950-1(International), CB, EAC/Customs Union (CU)
Emissions and Immunity
FCC Class A (USA), CE Class A – EN 55032, EN 55024 (EU), ICES-003 Class A, VCCI, RMC, EAC/Customs Union (CU), KCC, BSMI, CCC
Supported Browsers
Chrome Firefox Internet Explorer
Ordering Information
NSC-TXXR (Cisco Pin-out)
| SKU | Description |
| --- | --- |
| NSC-T16R-STND-SAC | NSC 16-port unit, Cisco pinout, Single AC power supply, 2-Cores, 4GB RAM, 32GB SSD |
| NSC-T16R-STND-DAC | NSC 16-port unit, Cisco pinout, Dual AC power supply, 2-Cores, 4GB RAM, 32GB SSD |
| NSC-T16R-STND-DDC | NSC 16-port unit, Cisco pinout, Dual DC power supply, 2-Cores, 4GB RAM, 32GB SSD |
| NSC-T32R-STND-SAC | NSC 32-port unit, Cisco pinout, Single AC power supply, 2-Cores, 4GB RAM, 32GB SSD |
| NSC-T32R-STND-DAC | NSC 32-port unit, Cisco pinout, Dual AC power supply, 2-Cores, 4GB RAM, 32GB SSD |
| NSC-T32R-STND-DDC | NSC 32-port unit, Cisco pinout, Dual DC power supply, 2-Cores, 4GB RAM, 32GB SSD |
| NSC-T48R-STND-SAC | NSC 48-port unit, Cisco pinout, Single AC power supply, 2-Cores, 4GB RAM, 32GB SSD |
| NSC-T48R-STND-DAC | NSC 48-port unit, Cisco pinout, Dual AC power supply, 2-Cores, 4GB RAM, 32GB SSD |
| NSC-T48R-STND-DDC | NSC 48-port unit, Cisco pinout, Dual DC power supply, 2-Cores, 4GB RAM, 32GB SSD |
| NSC-T48R-STND-SAC-SFP | NSC 48-port unit, Cisco pinout, Single AC power supply, 2-Cores, 4GB RAM, 32GB SSD, Fiber |
| NSC-T48R-STND-DAC-SFP | NSC 48-port unit, Cisco pinout, Dual AC power supply, 2-Cores, 4GB RAM, 32GB SSD, Fiber |
| NSC-T48R-STND-DDC-SFP | NSC 48-port unit, Cisco pinout, Dual DC power supply, 2-Cores, 4GB RAM, 32GB SSD, Fiber |
| NSC-T96R-STND-SAC | NSC 96-port unit, Cisco pinout, Single AC power supply, 2-Cores, 4GB RAM, 32GB SSD |
| NSC-T96R-STND-DAC | NSC 96-port unit, Cisco pinout, Dual AC power supply, 2-Cores, 4GB RAM, 32GB SSD |
| NSC-T96R-STND-DDC | NSC 96-port unit, Cisco pinout, Dual DC power supply, 2-Cores, 4GB RAM, 32GB SSD |
| NSC-T96R-STND-SAC-SFP | NSC 96-port unit, Cisco pinout, Single AC power supply, 2-Cores, 4GB RAM, 32GB SSD, Fiber |
| NSC-T96R-STND-DAC-SFP | NSC 96-port unit, Cisco pinout, Dual AC power supply, 2-Cores, 4GB RAM, 32GB SSD, Fiber |
| NSC-T96R-STND-DDC-SFP | NSC 96-port unit, Cisco pinout, Dual DC power supply, 2-Cores, 4GB RAM, 32GB SSD, Fiber |
NSC-TXXS (Auto Switching)
| SKU | Description |
| --- | --- |
| NSC-T16S-STND-SAC-x | NSC 16-port unit, Auto-switching, Single AC power supply, 2-Cores, 4GB RAM, 32GB SSD |
| NSC-T16S-STND-SAC-x-SFP | NSC 16-port unit, Auto-switching, Single AC power supply, 2-Cores, 4GB RAM, 32GB SSD + SFP |
| NSC-T16S-STND-DAC-x | NSC 16-port unit, Auto-switching, Dual AC power supply, 2-Cores, 4GB RAM, 32GB SSD |
| NSC-T16S-STND-DAC-x-SFP | NSC 16-port unit, Auto-switching, Dual AC power supply, 2-Cores, 4GB RAM, 32GB SSD + SFP |
| NSC-T16S-STND-DDC-x | NSC 16-port unit, Auto-switching, Dual DC power supply, 2-Cores, 4GB RAM, 32GB SSD |
| NSC-T16S-STND-DDC-x-SFP | NSC 16-port unit, Auto-switching, Dual DC power supply, 2-Cores, 4GB RAM, 32GB SSD + SFP |
| NSC-T32S-STND-SAC-x | NSC 32-port unit, Auto-switching, Single AC power supply, 2-Cores, 4GB RAM, 32GB SSD |
| NSC-T32S-STND-SAC-x-SFP | NSC 32-port unit, Auto-switching, Single AC power supply, 2-Cores, 4GB RAM, 32GB SSD + SFP |
| NSC-T32S-STND-DAC-x | NSC 32-port unit, Auto-switching, Dual AC power supply, 2-Cores, 4GB RAM, 32GB SSD |
| NSC-T32S-STND-DAC-x-SFP | NSC 32-port unit, Auto-switching, Dual AC power supply, 2-Cores, 4GB RAM, 32GB SSD + SFP |
| NSC-T32S-STND-DDC-x | NSC 32-port unit, Auto-switching, Dual DC power supply, 2-Cores, 4GB RAM, 32GB SSD |
| NSC-T48S-STND-SAC-x | NSC 48-port unit, Auto-switching, Single AC power supply, 2-Cores, 4GB RAM, 32GB SSD |
| NSC-T48S-STND-SAC-x-SFP | NSC 48-port unit, Auto-switching, Single AC power supply, 2-Cores, 4GB RAM, 32GB SSD + SFP |
| NSC-T48S-STND-DAC-x | NSC 48-port unit, Auto-switching, Dual AC power supply, 2-Cores, 4GB RAM, 32GB SSD |
| NSC-T48S-STND-DAC-x-SFP | NSC 48-port unit, Auto-switching, Dual AC power supply, 2-Cores, 4GB RAM, 32GB SSD + SFP |
| NSC-T48S-STND-DDC-x | NSC 48-port unit, Auto-switching, Dual DC power supply, 2-Cores, 4GB RAM, 32GB SSD |
| NSC-T48S-STND-DDC-x-SFP | NSC 48-port unit, Auto-switching, Dual DC power supply, 2-Cores, 4GB RAM, 32GB SSD + SFP |
*Optional deluxe upgrade available
** Replace "x" with fan configuration.
F – Front to Back / B – Back to Front
Accessories
SKU
Description
Z000036
RJ45F (NSC T

xx

Cyclades pinout) to DB9F cross converter
Z000200
RJ45F (NSC T

xx

Cyclades pinout) to DB9F straight converter
Z000039
RJ45F (NSC T

xx

Cyclades pinout) to RJ45M Sun/Cisco cross converter
Z000015
RJ45F (NSC T

xx

R Cisco pinout) to DB9F cross converter
ZRMK0001
Rack Mount Kit – (Ears and Screws)