Nodegrid™ for
Branch Networks
Remote Network Infrastructure Management
ZPE Systems brings their Out-of-Band (OOB) expertise from the data center and extends it out to the Remote Office / Branch Office (ROBO) by providing users with the ability to establish a 24×7 remote virtual presence throughout the network. In addition, we have incorporated SASE and SD-Branch needs with the ability to run Guest OS's, NFV's and applications. Nodegrid is the perfect platform for the branch and provides right fit solutions with the same enterprise grade security features and protocols customers have depended on from our Nodegrid Solutions.
---
ZPE Systems takes a Continuous Adaptive Risk and Trust Assessment (CARTA) approach to network security to support the digital transformation of business.
Secure Boot
Hardware Encrypted Storage
Mutual Authentication with Trust Platform Module (TPM)
Custom Security with Secure Ports
Geo-Fencing
Configuration Reset Button
Strong Password
Configuration Tampering Protection
Single Sign On (DUO, OKTA, PING) and Remote Authentication
2-Factor Authentication
Logging & Alerts
Fine Grain Authorization and RBAC
Selectable Protocols and Cyphers
Firewall and Fail2ban
360º Monitoring via ZPE Cloud
The perfect branch solution is dependent on the needs of your environment…
What do you need your solution to do?
Out-of-Band Connectivity

Out-of-Band Connectivity

Nodegrid goes beyond your data center with secure out-of-band connectivity. Our appliances support serial and console ports, with dual-cellular failover that provides reliable backup. Use Nodegrid at your branch locations for safe, remote control of your network, so you can deploy, scale, and manage with ease.

Solution Benefits:

Deploy simply & safely — With ZPE Cloud, the initial deployment and ongoing management of your network is easy, and you no longer need to ship pre-configured devices to your branch locations.
Cut response times & maintenance costs — If issues arise, put your best people on the job right away. Remote access allows you to remedy issues without having to roll a truck, so you cut response times and operating expenses.
Increase uptime — Even during an outage, you can keep things "business as usual" thanks to cellular failover connectivity that supports all major carriers.

---

Cloud-Based Agility

With ZPE Cloud™, you no longer need to get bogged down by provisioning or on-site support. Configure, deploy, & manage all your appliances from our secure cloud platform.

Vendor Neutral

Add management capabilities to all your devices. Nodegrid eliminates the need to learn many vendor-specific tools, and instead gives you normalized commands on one console.

More Uptime

Thanks to dual cellular failover that supports all major carriers, you get strong backup when your network goes down. Get built-in 4G/LTE connectivity for more reliability & uptime.

Learn More
Out-of-Band + SASE

Out-of-Band + SASE
Deliver secure access anywhere thanks to Nodegrid's Secure Access Service Edge (SASE) capabilities. SASE combines networking and security for flexible, cloud-based access that goes where your users go. Because Nodegrid supports virtualized applications and built-in automation, you can deploy additional security software and scale effortlessly to meet your business' needs.

Solution Benefits:

Squeeze more functionality out of every device — Add new applications on top of Nodegrid to get even more out of your solution.
Deploy faster & scale effortlessly — Using Guest OS, you can set your standards to help you quickly deploy branch locations and easily scale in compliance.
Reduce your footprint & increase reliability — Use Guest OS to replace devices at your branches, and gain consistent cellular failover for all your applications.

For a list of virtualized applications already validated for the Nodegrid platform, please visit: Prevalidated Virtualized Applications

---

Efficient Integration

Nodegrid combines networking & security into one agile platform. You no longer lose time & money to inefficient service chaining, loosely-coupled point products, or vendor-specific issues.

Total Flexibility

Patented x86 64-bit architecture offers Guest OS access and support for virtualized applications. Deploy firewalls, WAN accelerators, & more directly on Nodegrid devices.

Automated & Modular

Take advantage of built-in automation that streamlines deployment & scaling. And because Nodegrid is modular, you can tailor your SASE capabilities to your business' needs.

Learn More
Office in a Box / Remote Office Remote Branch (SD-Branch)

Office in a Box / Remote Office Remote Branch (SD-Branch)
Using our office-in-a-box solution and ZPE Cloud, you can easily deploy and configure branches that comply with security and network requirements.

Nodegrid's patented technology consolidates all your network functions on a single plug-n-play device. Not only do you reduce your stack and get the security of cloud-based provisioning, but you can also deploy virtualized applications for routing, security, traffic management, and more directly on your Nodegrid appliances.

You no longer need to juggle a complex network infrastructure. Nodegrid helps you cut costs and address your business' needs with a unified SD-Branch solution.

Solution Benefits:

Manage all your apps on one platform — Use the cloud to deploy and manage your multi-vendor virtualized applications for SD-WAN, firewall, cyber security, and more.
Get rid of expensive MPLS circuits — Connect your branch locations via the cloud to optimize how you orchestrate your network and prioritize business applications.
Stay up and running — Get reliable backup connectivity with cellular failover that keeps business going, even if your WAN has an outage.

For a list of virtualized applications already validated for the Nodegrid platform, please visit: Prevalidated Virtualized Applications

---

Complete Management

Use the cloud to deploy and manage your virtualized applications, regardless of vendor. Get a single platform for SD-WAN, firewall, cyber security, and more.

Smaller Footprint

Thanks to patented devices that consolidate routing, switching, storing, and other functions, you benefit from reduced capital expenses and a smaller hardware footprint.

Fully Remote

You no longer need to spend time & money on on-site support. Simply connect your Nodegrid appliances to the network, and start saving thanks to fully remote management.

Learn More
---
Nodegrid Services Router (SR) Architecture
Nodegrid SR is designed to provide flexible network interface options, dual cellular fail-over with dual SIM, a modern and secure Nodegrid OS, OOB management, cloud orchestration and add-on virtualized applications for SASE and SD-BRANCH. Nodegrid SR family eliminates the need of multiple boxes and complex configuration. Less devices to maintain at the branch, better flexibility.
Designed with Branch in Mind:
Multi Vendor-Neutral Virtualized Guest OS, Applications and Services Integrated for SASE and SD-Branch
Modern OS with built-in Networking & Virtualization Support, OOB Access & Control and Cloud Management
Support for Multiple Interfaces add-on Compute, Storage, Cellular Fail-over, Wi-Fi, Sensors on a patented x86-64bit Hardware Architecture
---
Freedom of Choice – Nodegrid SR Intelligent Branch
Nodegrid Link SR
Nodegrid Bold SR
Nodegrid Gate SR
Nodegrid Services Router
CPU
x86-64bit Intel Processor
x86-64bit Intel Processor
x86-64bit Intel Processor
x86-64bit Intel Processor
Guest OS
1
1
1-3
1-6
Docker Apps
1-2
1-2
1-4
1-6
Storage
16GB – 128GB
32GB – 128GB
32GB – 128GB
32GB – 128GB
Secondary Additional Storage
Up to 4TB
Up to 4TB
Up to 4TB
Up to 4TB
PoE+ Output
–
–
Yes
Yes
Wi-Fi
✓
✓
✓
✓
ZPE Cloud Support
✓
✓
✓
✓
Cellular (Dual-Sim)
1
1-2
1-2
1-4
Serial
1
8
8
16-80
Network
1 x Gb ETH
1 x SFP
5 x Gb ETH
2 x SFP+
5 x Gb ETH
4 x 1Gb ETH PoE+
2 1Gb ETH
2 SFP+
Multiple Cards
GPIO
2 DIO, 2 OUT
–
2 DIO, 1 OUT, 1 Relay
–
Power
Single
Single
Single or Redundant
Single or Redundant
---
Application
An example of the Nodegrid SR family of solutions deployed at the branch.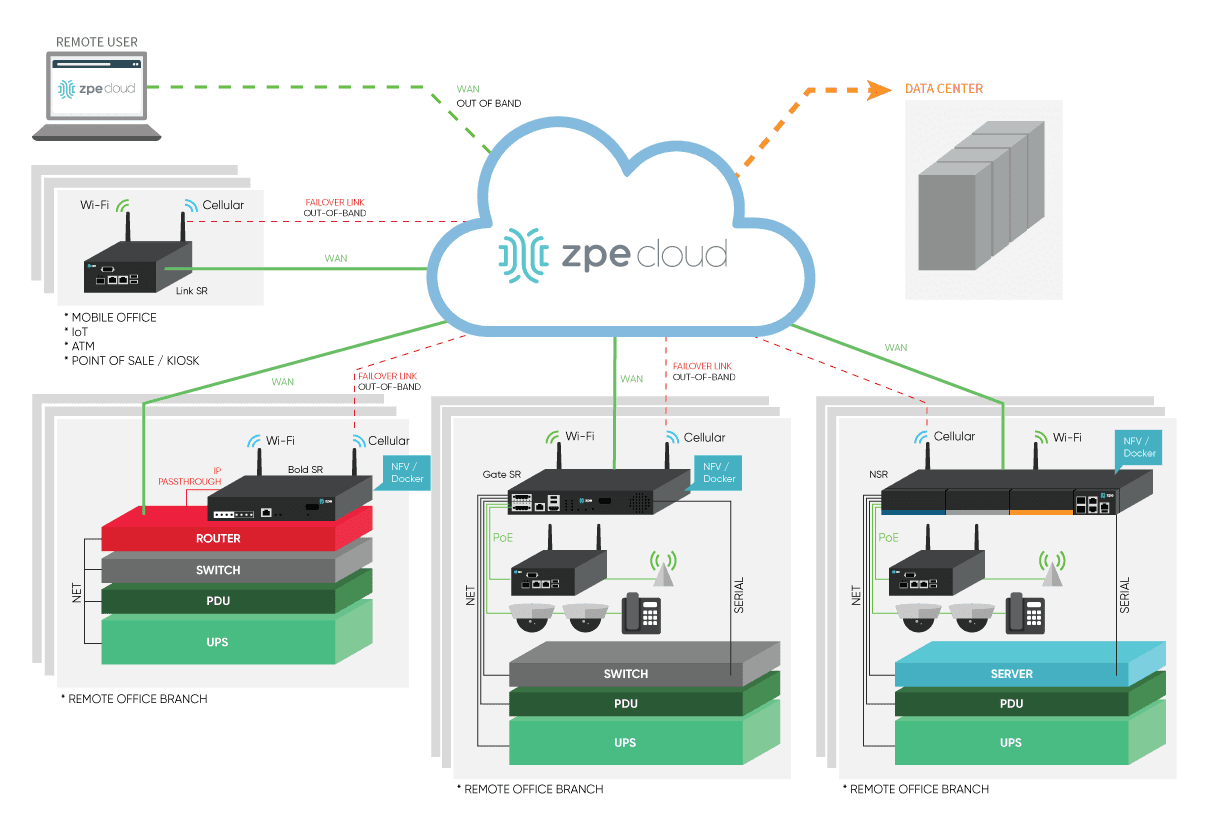 ---
Products

ZPE Cloud
Learn More
Nodegrid Services Router
Learn More
Nodegrid Gate SR
Learn More
Nodegrid Bold SR
Learn More
Nodegrid Link SR
Learn More
---