Datacenter infrastructure management
Minimize disruptions & maximize your control at the datacenter
Simple to manage any gear — serial or otherwise
Sophisticated automation 
Scale to million nodes
Secure at every level
Sensors for any need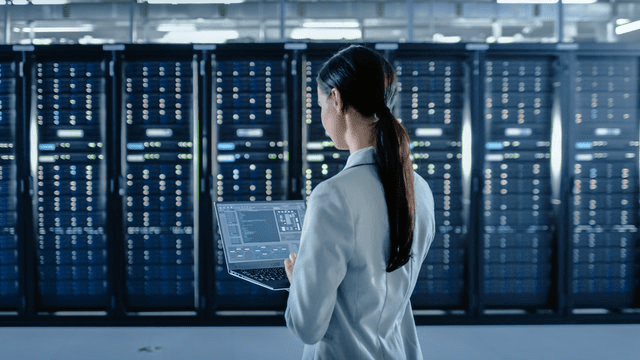 Can you manage at scale without the complexity?
Datacenter infrastructure management strains your resources. Demands are growing for more availability, while it's becoming difficult to manage more systems from many vendors. You need to provide support from a distance, but traditional out-of-band solutions lack the capabilities and speed to accommodate fully remote IT.
ZPE Systems' Nodegrid helps you boost datacenter availability and streamline management at scale. Maintain uptime using built-in data and scripting capabilities; unify your infrastructure under a single management UI; and support large-scale sites 100% remotely. Nodegrid frees up resources and cuts datacenter complexity.
Boost availability with self healing
Meet customers' growing demand for more uptime. Data parsing and scripting help your system automatically restart services, cycle device power, and maximize availability.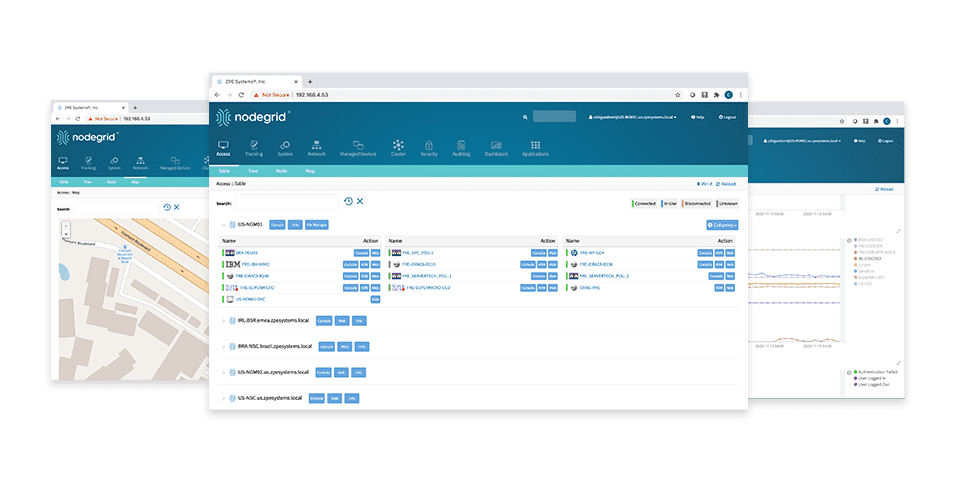 Unify management to cut complexity
Don't let management grow out of control. Nodegrid eliminates plug-in dependencies and supports legacy solutions. Interface abstraction gives you full control on one UI.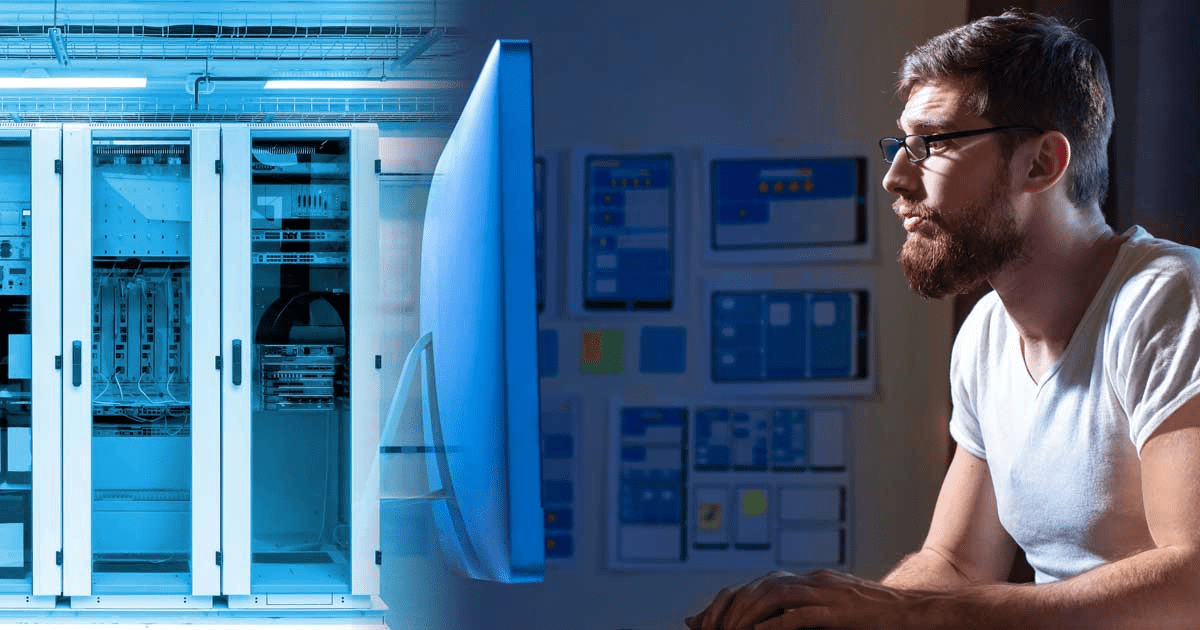 Provide support 100% off-site
Strict requirements make on-site support difficult. Nodegrid's in-depth out-of-band and reliable cellular connectivity mean you never again need to visit the datacenter.
Achieve five-nines availability using a self-healing solution
Customers continue to demand increased availability, which means you need to edge out downtime wherever possible. But manual intervention is still required to fix outage-inducing issues that stem from system and power failures.
Nodegrid helps you achieve 99.999% availability through the use of self-healing capabilities that automatically restore uptime.
Use data parsing to match strings collected in your data logs, and create scripts to execute specific fixes. Do away with manual interventions, and get an infrastructure that restarts services, cycles device power, and maintains availability all on its own.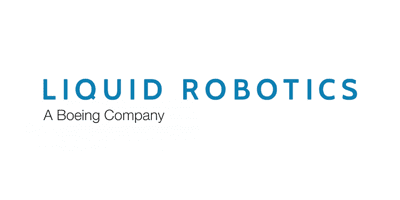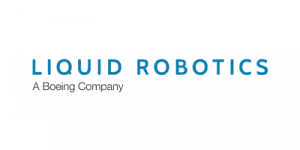 "Compiling Intel-based tool sets on an open platform with the SSD sizing to run VMs, now allows data center operators to extend serial to a variety of use cases."
– Olav Phillips, Lead DevOps and Infrastructure Engineer, Liquid Robotics
Manage everything without plug-in dependencies or mixed-up UIs
Your datacenter is a mixed bag of devices and procedures. Refreshes and installs bring new plug-in dependencies, and varying degrees of standardization leave you with ever-changing tools and practices.
The Nodegrid Serial Console features auto-sensing ports that eliminate plug-in dependencies, so you can easily transition through refreshes, installs, and other changes. You can even connect legacy systems to extend their functionality.
Use Nodegrid Manager to take advantage of the Interface Abstraction Layer, which normalizes commands across your diverse infrastructure. You no longer need to juggle many management tools, and can instead control everything from one intuitive UI.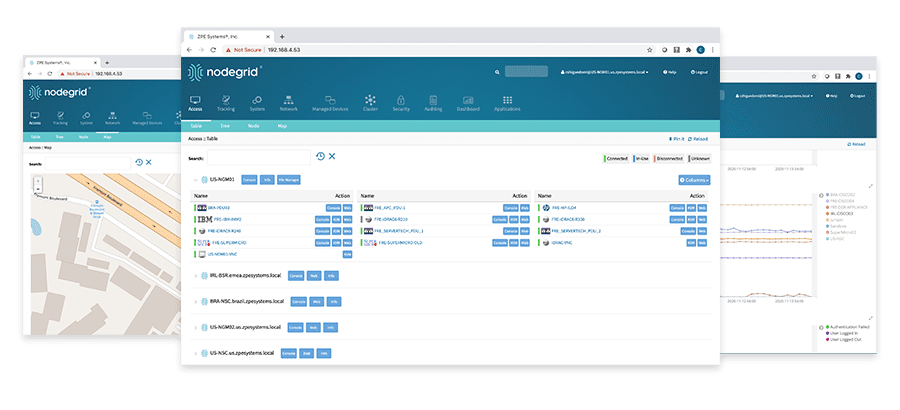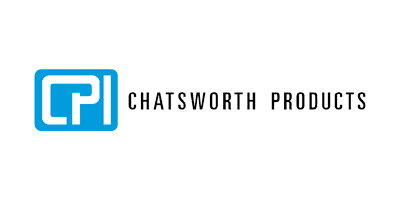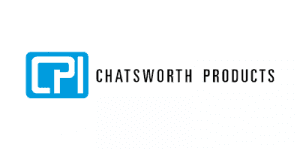 "Nodegrid's robust and reliable infrastructure management capabilities are superior, and add many benefits for customers trying to manage assets in hybrid environments."
– Ashish Moondra, Sr. Product Line Manager, Chatsworth Products
Get large-scale remote access and never again visit the datacenter
Supporting your datacenter is becoming more difficult. Increased security requirements limit on-site visits, while traditional out-of-band solutions are too slow and lack in-depth control.
But Nodegrid allows you to fully support your datacenter without setting foot on site. The Intel-powered Nodegrid Serial Console gives you the most responsive simultaneous sessions, and Nodegrid Manager provides easy point-and-click access to all your device clusters.
Use in conjunction with smart PDUs, and Nodegrid's out-of-band lets you even cycle power for specific devices. With built-in cellular for failover, Nodegrid gives you reliable remote access to your large-scale datacenter environments.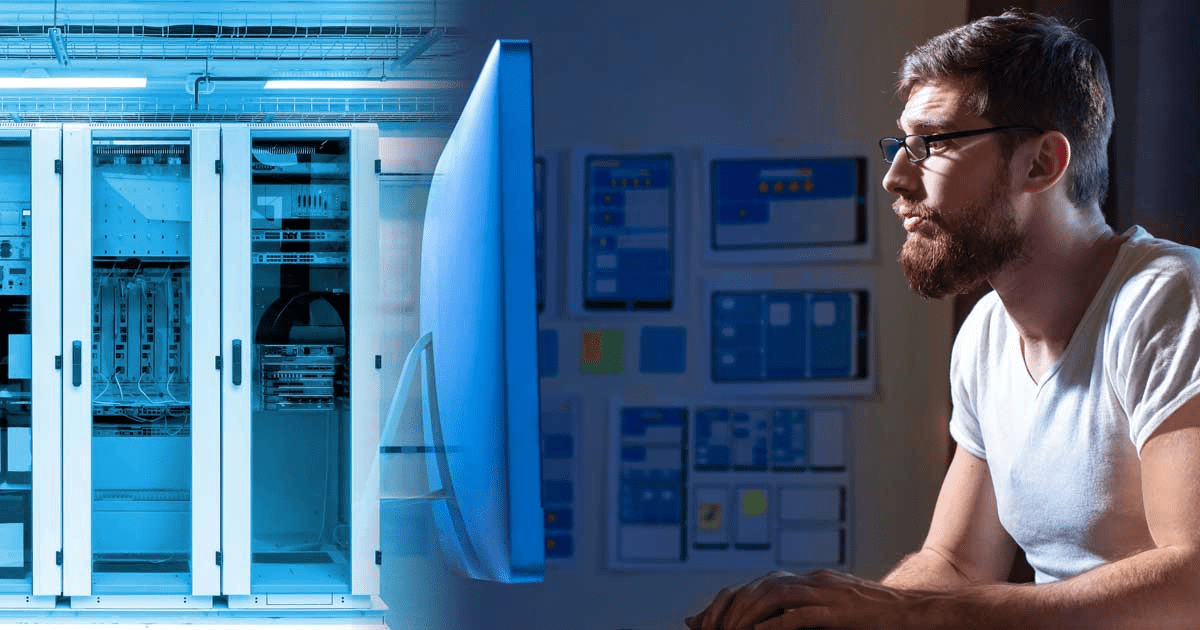 Guarantee uptime of any size datacenter with Nodegrid
Traditional Solutions
Manual effort to troubleshoot and restore uptime

Cumbersome management due to ever-changing environments and requirements

Recurring on-site support due to slow out-of-band servers that limit remote control
ZPE Systems' Nodegrid
Self-healing that automatically executes power cycles, restarts services, & restores uptime

Streamlined control at scale with vendor-neutral UI and no more plug-in dependencies

Large-scale remote access with power control & built-in LTE that eliminate on-site support
Trusted by the world's biggest companies in
automotive, finance, hosting, and other industries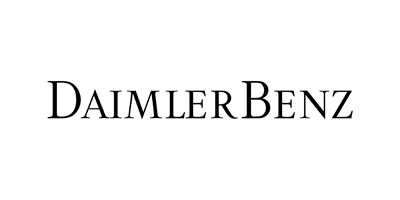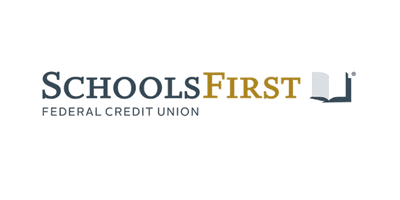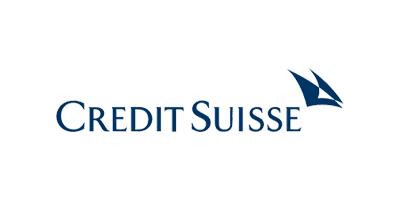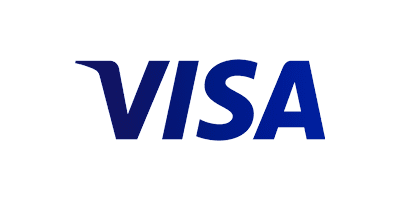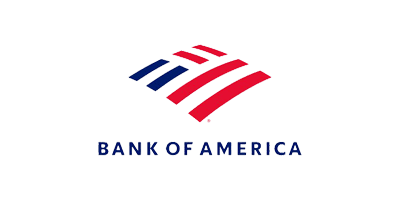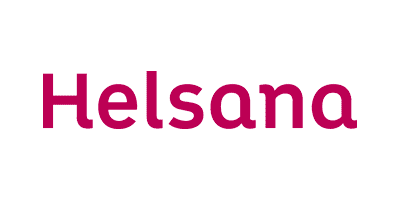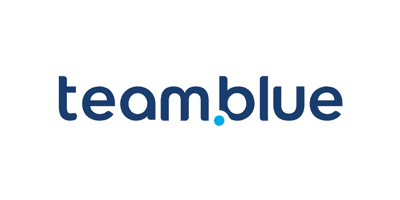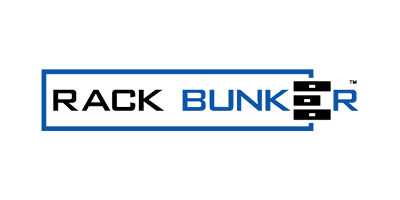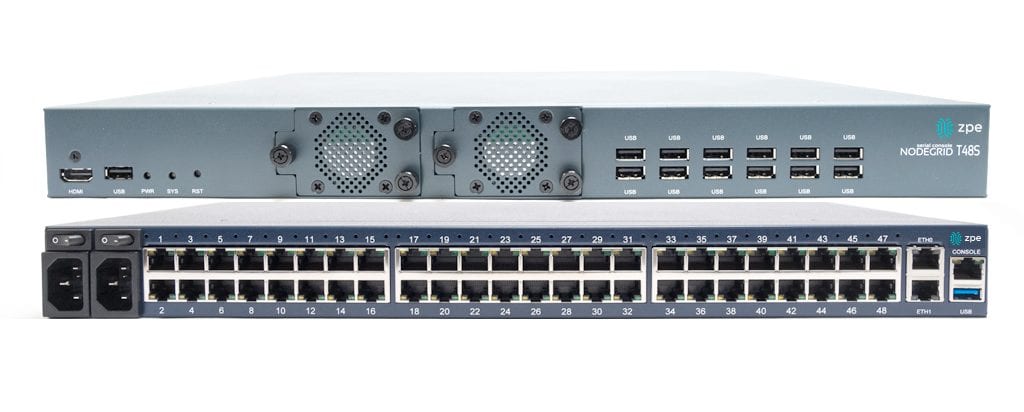 Nodegrid Serial Consoles (NSC)
The world's fastest serial console for simple control of any environment.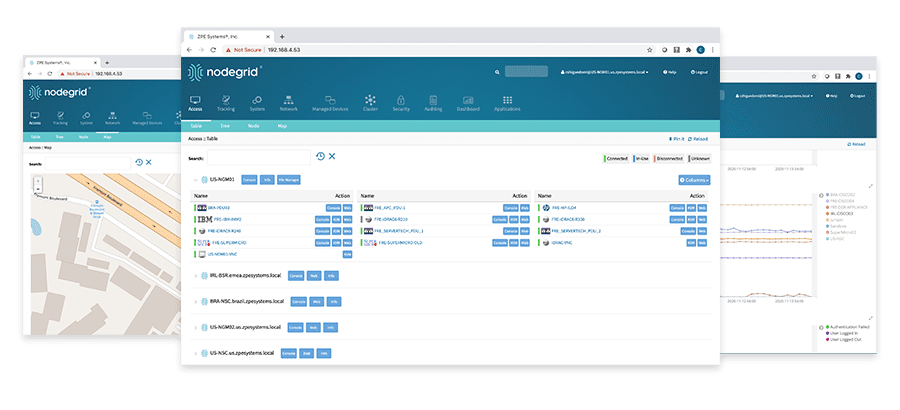 Nodegrid Manager
One interface for point-and-click control of all your solutions.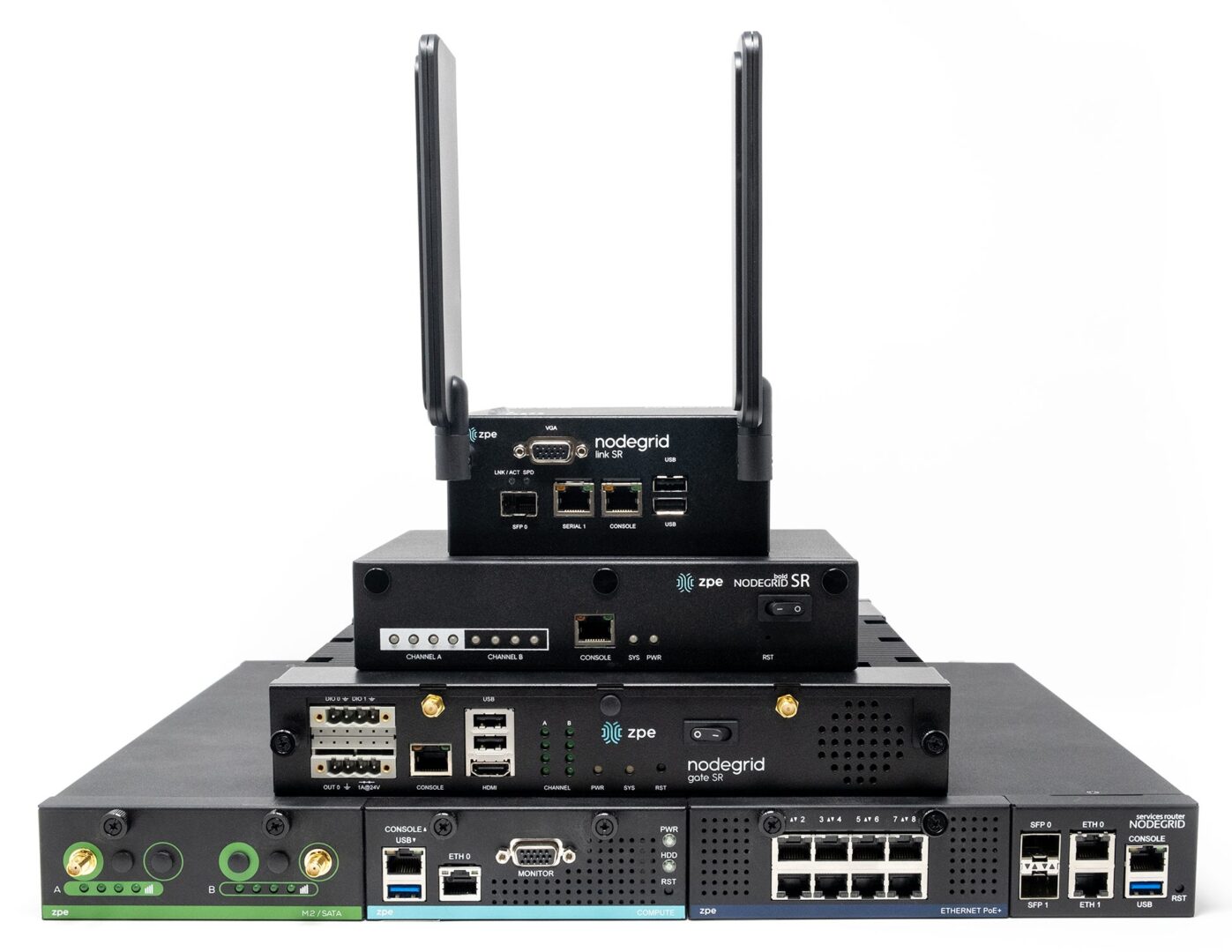 Nodegrid Services Router (SR) Devices
Simple, all-in-one devices to shrink your stack and add resilience.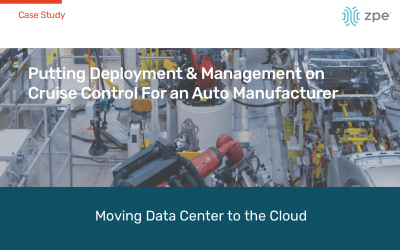 Network automation and zero touch provisioning are more than luxuries. They're quickly becoming the powertrain of business, helping you meet growth demands and keep up with important opportunities. These technologies also prove invaluable to making sure everyday tasks...
read more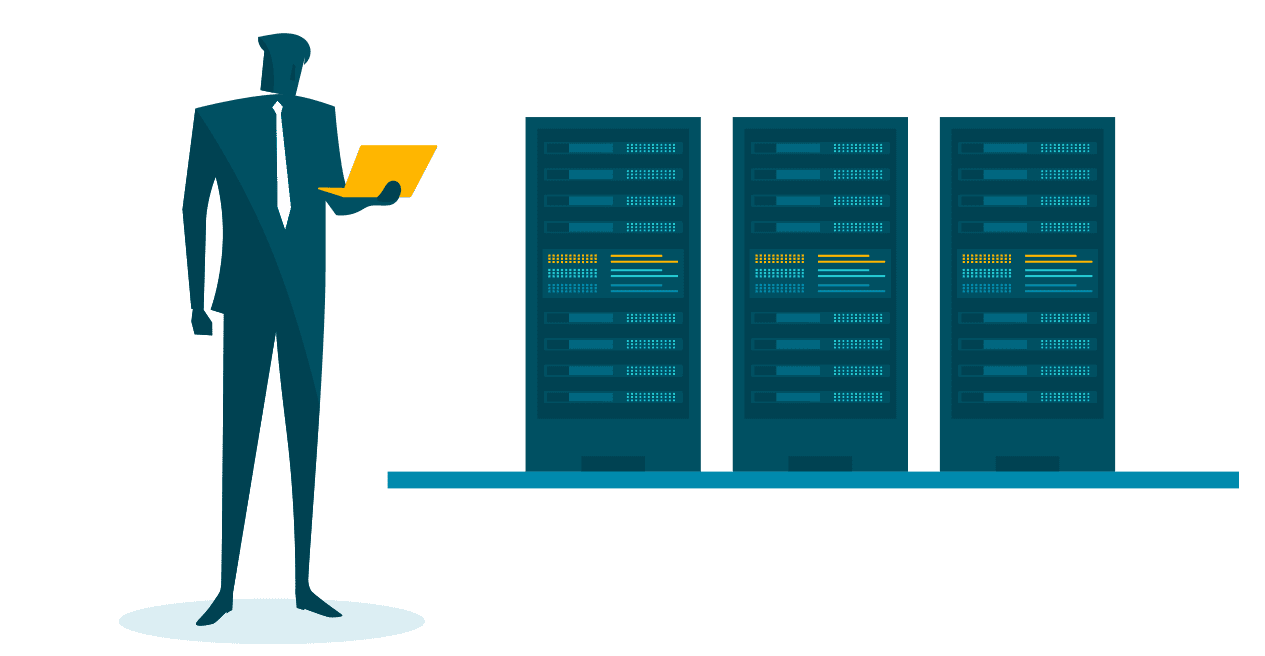 Cut downtime by 50%, like this Fortune 500
Join our webinar to see how downtime creeps in at the edge,
and get a Fortune 500 strategy to cut losses 50%.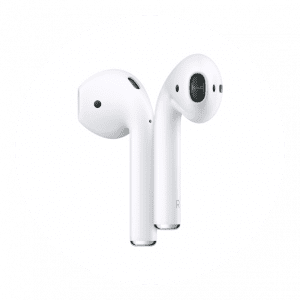 Want Apple AirPods? Get a Demo For Your Chance To Win
Get a glimpse of your resilient & flexible network. Set up a free demo, and you could win Apple AirPods.