Retail and Remote Branch Offices
Retail and remote offices have IT needs but don't necessarily have IT people there to troubleshoot a situation when things go south. We know your situation; You're expected to deploy systems, prevent outages, and in the worst cases, fix things when they're down. It's all running fine for now…
… Until the phone rings. It's the retail branch calling you with this familiar greeting: "Uh-oh, the network is down."
Sound familiar?
---
Challenge
Downtime is extremely costly and you know it! You're considering the loss of potential sales, the money wasted while your team sits idle, unable to work – It's not their fault the system is down, and even if it was… You've got to get it fixed! The responsibility falls on you and your not so technical set of "remote hands."
What's the move here -When you don't have someone technical on-site, what do you do? "Remote hands" are serviceable, sometimes.. Do you take that gamble? Will you be able to guide that person through the process of getting things back up? That same set of remote hands could have easily been the cause of this mess in the first place.
Maybe they can fix it. You can guide them through each and every step of the process, you're a great teacher with tons of patience right? They'll either fix it following your orders, or make it worse. You'll just have to find out…
---
Solutions
Nodegrid SR Solutions give you everything you need to not only catch, but prevent network problems remotely. You have a secure and always available remote management access point. It doesn't matter that so-and-so took the network down, because the 4G/LTE failover results in reliable cellular access, maintaining your ability to manage, monitor, and access your EDGE network devices. Utilize power monitoring, send commands to power cycle units that are stuck. Have different branded appliances in your network? No problem. ZPE's vendor neutral approach let's you manage any appliance, regardless of manufacturer within Nodegrid Manager®.
Nodegrid SR Solutions were made with retail and remote offices in mind, providing secure, dependable access to manage remote devices at the EDGE of your network. The connection is secure and dependable, when the networks down, you have failover via 4G/LTE with your choice of carrier. Nodegrid SR Solutions minimize costly downtime, allowing you to quickly diagnose and troubleshoot issues within Nodegrid Manager®, getting your retail/remote location back up and running. Don't leave your networks well-being to "remote hands" when you can go with Nodegrid SR Solutions.
Key Benefits
Integrates with ZPE Systems Nodegrid Manager® vendor-neutral unified management solution
Manage IT devices at the EDGE of the network
Secure – Built in TPM
Zero Touch Provisioning (ZTP) for fast and easy setup in remote locations
Dependable remote access (Failover to 4G/LTE modem)
Power control and monitoring alerts
---
ZPE Systems recommends the following Nodegrid Solutions for Retail/Remote IT Infrastructure:
ZPE Cloud
Secure, Fast and Consistent Branch IT Device Provisioning and Deployment – No need for shipping pre-configured devices to your branch. ZPE Cloud makes the initial deployment, configuration and ongoing management simple and provides you with a 360 visibility of your entire deployment along with rich analytics that are easy to understand and operate.
---
Nodegrid Manager
Nodegrid Manager is the easiest way to access and control your virtual and physical IT devices. Our Software-Defined Infrastructure (SDI) provides single screen vendor-neutral management of all your critical IT infrastructure devices and assets.
---
Nodegrid Services Router
Nodegrid Services Router is a modular open platform appliance designed for software-defined networking (SDN), out of band (OOB) management, DevOps, SD-WAN, remote/branch offices, retail locations, and network function virtualization (NFV) capabilities. Nodegrid Services Router is optimized to perform various network functions including switching, routing, security, WAN acceleration, provide secure OOB remote access, run Docker applications and control IT devices at the edge of the network, and within converged infrastructure (CI) environments.
---
Nodegrid Gate SR
Fully Flexible Converged Infrastructure Management Solution. Ideal for Provisioning your Branch IT Devices via the ZPE Cloud. Nodegrid Gate SR brings agility to the network. Perfect for both the data center and branch, Nodegrid Gate SR packs tremendous power in a small form factor, resulting in a truly robust and dynamic, secure infrastructure management solution. Configure and manage Gate SR via the ZPE Cloud.
---
Nodegrid Bold SR
Nodegrid Bold SR is an open platform appliance designed for secure access and control over remote and IoT devices at the EDGE of your network. Bold SR supports Network Function Virtualization (NFV) and Software Defined Networking with a focus on SD-WAN.
---
Nodegrid Link SR
Compact Infrastructure Management and Connectivity Solution Ideal for the Branch, IoT and M2M Environments – Nodegrid Link SR brings agility to the branch network, packing tremendous power in a compact design – Truly robust and dynamic, secure infrastructure management – Configure and manage Link SR via the ZPE Cloud to get your Branch / IoT / M2M / Kiosk / ATM / Remote Locations up and running quickly and easily.
---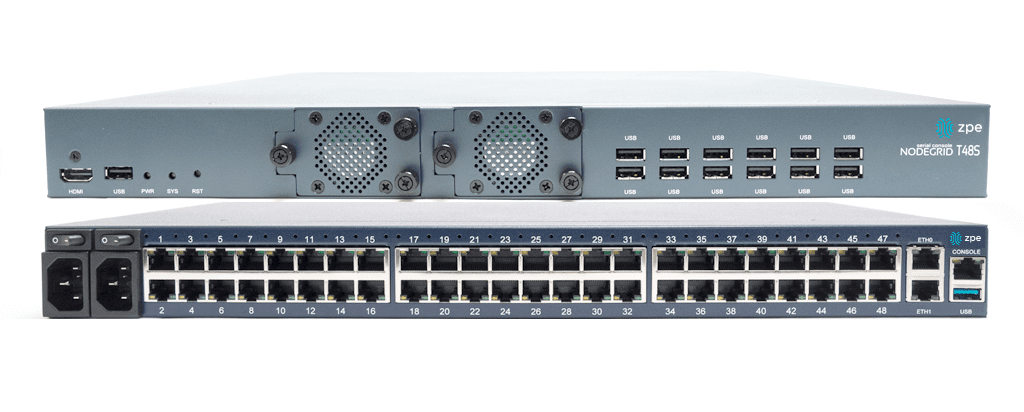 Nodegrid Serial Console
Nodegrid Serial Console is the next generation of console servers. Nodegrid Serial Console provides secure, hyperscale remote access to all IT devices, regardless of manufacturer.
---
---