Oil, Gas & Mining
ZPE Solutions address the needs of the Oil, Gas & Mining Industries by granting remote access and control over assets in locations near and far.
Maintain and establish connectivity in remote locations via Nodegrid's secure out of band management and control platform.
---
Imagine you're the IT guy in charge of making sure the remote assets are running properly. Think of the locations – A drilling rig or platform out there on the ocean, a moving ship, or even the warehouse on shore or in some other remote location hundreds if not thousands of miles away; How do you troubleshoot issues way over there?
Sure you've got staff on location, but are they smart hands? If they are, great, you'll be back up in no time… maybe. Do they have the technical background to get your network up and running? Can you afford the business impact with said downtime? Is there alternate routing while the main network is down?
Technically, you could hire dedicated IT staff for the remote location but chances are your CFO won't approve that; So what do you do?
If you value efficiency and want to ensure maximum uptime, a remote management appliance like our Nodegrid family of solutions are exactly what you need in this situation.
Be there without having to physically be there. With ZPE Solutions, you can take care of network/connectivity issues at the remote location remotely from the convenience of your own home office/branch at any time. Instead of going through the lengthy and costly process of physically getting IT staff out there, why not utilize remote management. Have your in-home IT staff troubleshoot remotely; Reboot crashed devices, send commands and troubleshoot configuration issues, collaborate with specialists; do it all remotely via the network. Main network down? No problem. You can rely on 4G/LTE cellular failover from your choice of carrier to re-establish the connection and troubleshoot the issues instantly, without having to wait for IT staff to arrive.
---
Nodegrid Services Router and Nodegrid Bold SR give you everything you need to not only catch, but prevent network problems remotely. You have a secure and always available remote management access point. It doesn't matter that so-and-so took the network down, because the 4G/LTE failover results in reliable cellular access, maintaining your ability to manage, monitor, and access your EDGE network devices. Utilize power monitoring, send commands to power cycle units that are stuck. Have different branded appliances in your network? No problem. ZPE's vendor neutral approach let you manage any appliance, regardless of manufacturer within Nodegrid Manager®.
Nodegrid Services Router and Nodegrid Bold SR were made with Oil, Gas & Mining in mind, providing secure, dependable access to manage remote devices at the EDGE of your network. The connection is secure and dependable, if the network goes down, you have failover via 4G/LTE with your choice of carrier. Nodegrid Services Router and Nodegrid Bold SR minimize costly downtime, allowing you to quickly diagnose and troubleshoot issues within Nodegrid Manager®, getting your remote location back up and running. Don't leave your networks well-being to "remote hands" when you can go with Nodegrid Services Router or Nodegrid Bold SR. Do more with Nodegrid. Address issues immediately with automation, extend functionality with Docker applications and NFV's*, test/stage upgrades locally to prepare for your remote units.
Key Benefits
Manage IT devices at the EDGE of the network 24/7 from anywhere
Secure and consistent configuration – Zero Touch Provisioning (ZTP) for fast and easy setup in remote locations
Dependable remote access (Failover to 4G/LTE modem)
Power control and monitoring alerts
Integrates with ZPE Systems Nodegrid Manager® vendor-neutral unified management solution
---
ZPE Systems recommends the following Nodegrid Solutions for Oil, Gas & Mining Infrastructure:
ZPE Cloud
Secure, Fast and Consistent Branch IT Device Provisioning and Deployment – No need for shipping pre-configured devices to your branch. ZPE Cloud makes the initial deployment, configuration and ongoing management simple and provides you with a 360 visibility of your entire deployment along with rich analytics that are easy to understand and operate.
---
Nodegrid Manager
Nodegrid Manager is the easiest way to access and control your virtual and physical IT devices. Our Software-Defined Infrastructure (SDI) provides single screen vendor-neutral management of all your critical IT infrastructure devices and assets.
---
Nodegrid Services Router
Nodegrid Services Router is a modular open platform appliance designed for software-defined networking (SDN), out of band (OOB) management, DevOps, SD-WAN, remote/branch offices, retail locations, and network function virtualization (NFV) capabilities. Nodegrid Services Router is optimized to perform various network functions including switching, routing, security, WAN acceleration, provide secure OOB remote access, run Docker applications and control IT devices at the edge of the network, and within converged infrastructure (CI) environments.
---
Nodegrid Gate SR
Fully Flexible Converged Infrastructure Management Solution. Ideal for Provisioning your Branch IT Devices via the ZPE Cloud. Nodegrid Gate SR brings agility to the network. Perfect for both the data center and branch, Nodegrid Gate SR packs tremendous power in a small form factor, resulting in a truly robust and dynamic, secure infrastructure management solution. Configure and manage Gate SR via the ZPE Cloud.
---
Nodegrid Bold SR
Nodegrid Bold SR is an open platform appliance designed for secure access and control over remote and IoT devices at the EDGE of your network. Bold SR supports Network Function Virtualization (NFV) and Software Defined Networking with a focus on SD-WAN.
---
Nodegrid Link SR
Compact Infrastructure Management and Connectivity Solution Ideal for the Branch, IoT and M2M Environments – Nodegrid Link SR brings agility to the branch network, packing tremendous power in a compact design – Truly robust and dynamic, secure infrastructure management – Configure and manage Link SR via the ZPE Cloud to get your Branch / IoT / M2M / Kiosk / ATM / Remote Locations up and running quickly and easily.
---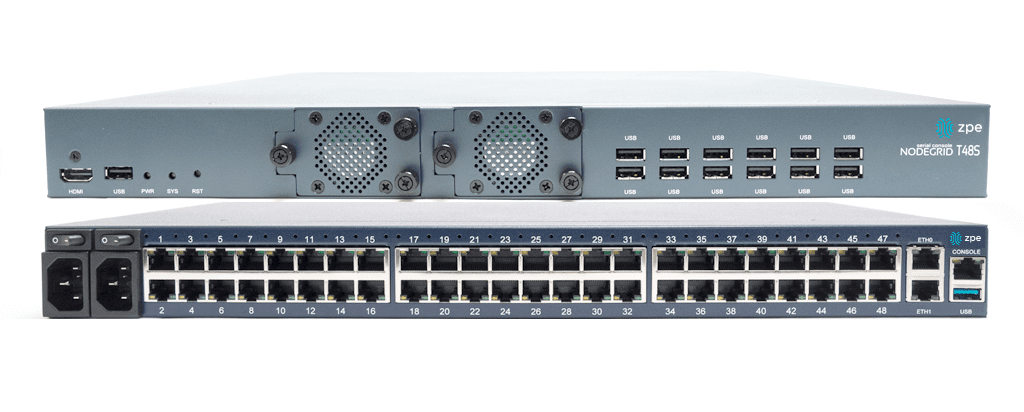 Nodegrid Serial Console
Nodegrid Serial Console is the next generation of console servers. Nodegrid Serial Console provides secure, hyperscale remote access to all IT devices, regardless of manufacturer.
---
---