Internet, Social Media & Search
Internet, social media and search companies all have specific needs when it comes to their IT network. They have tons of data spread throughout a vast network of data centers and co-locations. With these industries having so many users and so much content generated daily, their networks need to be secure, reliable, and scalable as well. The rise of these companies in the past decade has resulted in a change in the way IT networks need to be thought of and we know some of the challenges they may be facing today…
Even though you're a large web-scale operation, it's just not possible to have IT people in every single network POP, data center or co-location cage – Sometimes you've got dark rooms that are totally unmanned – we get it. Be that as it may, you're still expected to deploy systems at scale, prevent outages and stress test the network. And, when something does end up going wrong, you're expected to get that IT infrastructure back up and running in a heartbeat.
---
Challenge
Downtime, no matter how short, costs money.

Whether it be lost revenue alone, or taking into account productivity wasted while trying to get the systems back online – Money is being wasted. Here's some of the common challenges we've heard from people in the internet, social, and search space:
Server OS crashed
Router powered off by mistake
Orphaned VM
Cabling physically severed
Servers literally burned up
Non-compliant configuration changes
Lack of fingerprint
So what's the move here? "Remote hands" aren't as technical as you'd like them to be… Are they IT guys? Are they crash cart guys – can they help? Do you take that gamble? Will you be able to guide that person through the process of getting things back up?
---
Solutions
If you are planning to deploy remote services and infrastructure, or need to revisit how you handle outages in remote locations, then it's time for us to have a chat about our Nodegrid family of products — find out how we can help you reduce downtime and respond to outages.
Tech giants specifically rely on Nodegrid Serial Console and Nodegrid Manager for advanced access and control over IT devices using robust implementations of:
IPv4/IPv6, LLDP (Link Layer Discovery Protocol)
CLI and Scripting
Alerts and Actions
Logging
Zero Touch Provisioning
Security configuration checksums
Docker app implementation
The Nodegrid platform helps Internet giants globally with Out-of-Band management of hyperscale server, network, storage and PDU deployments.
Key Benefits
Secure access and control of virtual and physical IT devices
Available in 16/32/48 port as well as high-density 96 port configurations
Event notification & alarms
Service Processor logging of events and sensors
Minimizes Mean Time To Repair (MTTR), downtime and expenses with secure, centralized remote device access & control
Zero Touch Provisioning (ZTP)
Extended automation based on actionable real-time data
Failover to 4G/LTE modem
Out-of-Band power management
---
ZPE Systems recommends the following Nodegrid Solutions for Internet, Social Media, and Search companies:
ZPE Cloud
Secure, Fast and Consistent Branch IT Device Provisioning and Deployment – No need for shipping pre-configured devices to your branch. ZPE Cloud makes the initial deployment, configuration and ongoing management simple and provides you with a 360 visibility of your entire deployment along with rich analytics that are easy to understand and operate.
---
Nodegrid Manager
Nodegrid Manager is the easiest way to access and control your virtual and physical IT devices. Our Software-Defined Infrastructure (SDI) provides single screen vendor-neutral management of all your critical IT infrastructure devices and assets.
---
Nodegrid Services Router
Nodegrid Services Router is a modular open platform appliance designed for software-defined networking (SDN), out of band (OOB) management, DevOps, SD-WAN, remote/branch offices, retail locations, and network function virtualization (NFV) capabilities. Nodegrid Services Router is optimized to perform various network functions including switching, routing, security, WAN acceleration, provide secure OOB remote access, run Docker applications and control IT devices at the edge of the network, and within converged infrastructure (CI) environments.
---
Nodegrid Gate SR
Fully Flexible Converged Infrastructure Management Solution. Ideal for Provisioning your Branch IT Devices via the ZPE Cloud. Nodegrid Gate SR brings agility to the network. Perfect for both the data center and branch, Nodegrid Gate SR packs tremendous power in a small form factor, resulting in a truly robust and dynamic, secure infrastructure management solution. Configure and manage Gate SR via the ZPE Cloud.
---
Nodegrid Bold SR
Nodegrid Bold SR is an open platform appliance designed for secure access and control over remote and IoT devices at the EDGE of your network. Bold SR supports Network Function Virtualization (NFV) and Software Defined Networking with a focus on SD-WAN.
---
Nodegrid Link SR
Compact Infrastructure Management and Connectivity Solution Ideal for the Branch, IoT and M2M Environments – Nodegrid Link SR brings agility to the branch network, packing tremendous power in a compact design – Truly robust and dynamic, secure infrastructure management – Configure and manage Link SR via the ZPE Cloud to get your Branch / IoT / M2M / Kiosk / ATM / Remote Locations up and running quickly and easily.
---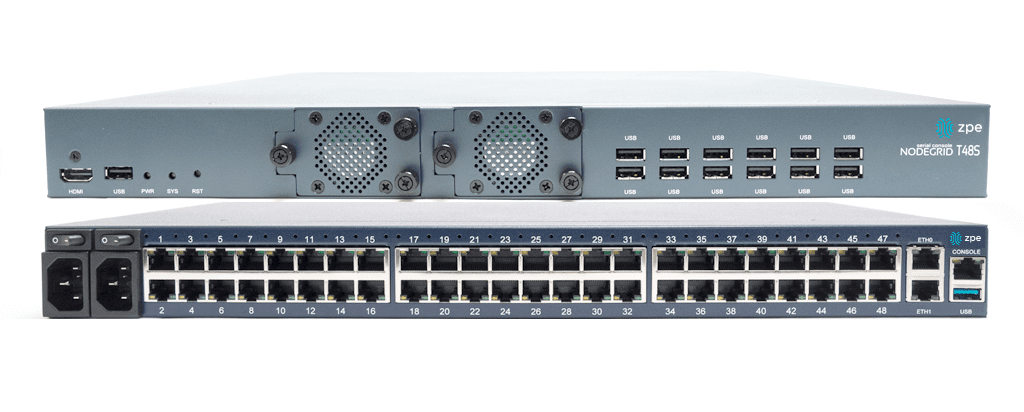 Nodegrid Serial Console
Nodegrid Serial Console is the next generation of console servers. Nodegrid Serial Console provides secure, hyperscale remote access to all IT devices, regardless of manufacturer.
---