Banks & Finance
ZPE Solutions Address the Critical IT and Security Needs of the Banking and Financial Industry.
Whether it's a branch, banking center, or a credit union, uptime and security for the industry are of the utmost importance.
---
Challenge
The Financial Industry Has Critical IT Needs – The need to follow compliance regulations and maintain records of system access are tantamount. So many different things happens on these networks – crucial data needs to be accessed over a secure and reliable network.
Transactions occur nearly every second of the day that require precise and accurate networks to keep up with the activity. Money moves quickly, city to city, state to state all within an instant…
Are your transactions safe? Who will monitor and repair the network and server downtime issues if/when they occur?
---
Solutions
The need for a reliable network coupled with enterprise grade security and connectivity failover. Those needs and more are addressed by ZPE's Nodegrid Family of Infrastructure Management Solutions.
Nodegrid Infrastructure Management Solutions provide fast, highly secure and reliable in-band and out-of-band access to your servers, network, storage, power, and other serial devices in your infrastructure. When coupled with ZPE's vendor-neutral Nodegrid Manager software, IT staff can immediately access all other physical and virtual devices, providing a truly hyper-converged infrastructure management solution. Maximum uptime is now possible without having to staff a full-time IT expert at every remote site. The Nodegrid Family is a prime fit for the finance industry.
Logging and Auditing for Inspection and Regulatory Compliance
Nodegrid logs all the standard data — who logged in and when — as well as data that our competitors don't capture, such as the content of login console sessions – not just records of who and when, but the "what."
Nodegrid's security and logging features fulfill regulatory compliance needs of HIPAA, the Sarbanes-Oxley Act and more.
Enterprise Grade Security
Enterprise Grade Authentication and Authorization
TLS protocols, X.509 SSH certificates, Cypher Suite Levels
Firewall and Secure Tunnels
Alerts and Actions
Provides an additional layer of security for your Intelligent Platform Management Interface (IPMI) Network
Failover to enterprise grade 4G/LTE modem, VPN, Firewall & IPsec
Your choice of carrier, model, features and plans. ZPE doesn't lock you into one or two predetermined carriers. Choose any carrier regionally and globally based on availability, reception and cost. Ideal for network failover and redundancy at globally distributed remote offices and clinics.
Zero Touch Provisioning (ZTP)
Some of the infrastructure needs to be deployed remotely – All that's required to make sure deployment is successful is the MAC address of the new units.
---
ZPE Systems recommends the following Nodegrid Solutions for the Banking and Financial Industry:
Nodegrid Services Router
Nodegrid Services Router is a modular open platform appliance designed for software-defined networking (SDN), out of band (OOB) management, DevOps, SD-WAN, remote/branch offices, retail locations, and network function virtualization (NFV) capabilities. Nodegrid Services Router is optimized to perform various network functions including switching, routing, security, WAN acceleration, provide secure OOB remote access, run Docker applications and control IT devices at the edge of the network, and within converged infrastructure (CI) environments.
---
Nodegrid Bold SR
Nodegrid Bold SR is an open platform appliance designed for secure access and control over remote and IoT devices at the EDGE of your network. Bold SR supports Network Function Virtualization (NFV) and Software Defined Networking with a focus on SD-WAN.
---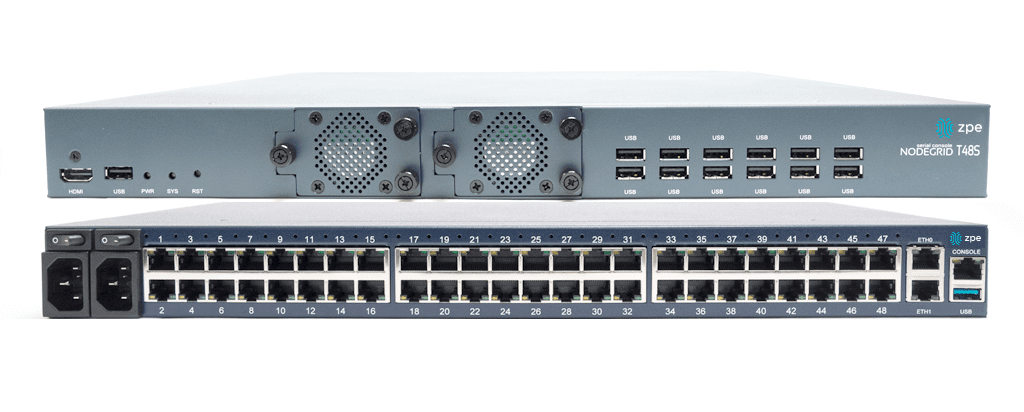 Nodegrid Serial Console
Nodegrid Serial Console is the next generation of console servers. Nodegrid Serial Console provides secure, hyperscale remote access to all IT devices, regardless of manufacturer.
---
Applications

---
---
Related Articles