Airline Industry
ZPE Solutions Address the Critical IT and Security Needs of the Airline Industry.
Whether it's a large international airport, small local airport, or communication center, uptime and security for the industry are of the utmost importance.
---
Challenge
Downtime for any business equates to money lost, this remains true even more so for the airline industry. In an industry where mere seconds of downtime can equate to lost revenue, damage to reputation, and missed SLAs – Uptime is of the utmost importance. Can you afford a network failure?
Airlines require an infrastructure management solution that's bulletproof. Their networks need to have secure remote access to all devices and the ability to troubleshoot them quickly and easily no matter if they're at the core or edge of the network – It's impossible to have IT staff on-site everywhere. Airline IT networks need connectivity fail-over in the form of 4G/LTE to maintain uptime and troubleshoot issues remotely in case issues arise. They need IPv6 and IPv4 firewalls in place to keep the edge of the network safe and secure. Environmental monitoring and the ability to set custom alerts in order to proactively protect themselves against any issues are all needs Airline companies have. Like in all industries, network ports come at a premium – The ability to cascade devices to save some valuable ports becomes a necessity. Not only that, but scalability and network speed also need to be considered by the industry as well.
The Airline industry requires a solution to be deployed in all of the remote locations, granting authorized users full access, control, logging and monitoring of the physical and virtual devices. Being there without having to be there allows admins to spot issues before they happen and automate/take the right actions to prevent them.
---
Solutions
What the Airline industry needs is ZPE System's Nodegrid Family of IT infrastructure products.
Logging and Auditing for Inspection and Regulatory Compliance
Secure Access and Control of Virtual and Physical IT Devices
Event Notification & Alarms
Service Processor Logging of Events and Sensors
Minimize Mean Time To Repair (MTTR), downtime and expenses with secure, centralized remote device access & control
Zero Touch Provisioning (ZTP)
Extended Automation based on actionable real-time data
Out-of-Band Power Management
Flexible power options: AC or DC
SFP+ Connectivity
Wi-Fi USB
Enterprise Grade Security
Enterprise Grade Authentication and Authorization
TLS protocols, X.509 SSH certificates, Cypher Suite Levels
Firewall and Secure Tunnels
Alerts and Actions
Provides an additional layer of security for your Intelligent Platform Management Interface (IPMI) Network
Failover to enterprise grade 4G/LTE modem, VPN, Firewall & IPsec
Your choice of carrier, model, features and plans. ZPE doesn't lock you into one or two predetermined carriers. Choose any carrier regionally and globally based on availability, reception and cost. Ideal for network failover and redundancy at globally distributed remote offices and clinics.
---
ZPE Systems recommends the following Nodegrid Solutions for the Airline Industry:
Nodegrid Manager
Nodegrid Manager is the easiest way to access and control your virtual and physical IT devices. Our Software-Defined Infrastructure (SDI) provides single screen vendor-neutral management of all your critical IT infrastructure devices and assets.
---
Nodegrid Services Router
Nodegrid Services Router is a modular open platform appliance designed for software-defined networking (SDN), out of band (OOB) management, DevOps, SD-WAN, remote/branch offices, retail locations, and network function virtualization (NFV) capabilities. Nodegrid Services Router is optimized to perform various network functions including switching, routing, security, WAN acceleration, provide secure OOB remote access, run Docker applications and control IT devices at the edge of the network, and within converged infrastructure (CI) environments.
---
Nodegrid Bold SR
Nodegrid Bold SR is an open platform appliance designed for secure access and control over remote and IoT devices at the EDGE of your network. Bold SR supports Network Function Virtualization (NFV) and Software Defined Networking with a focus on SD-WAN.
---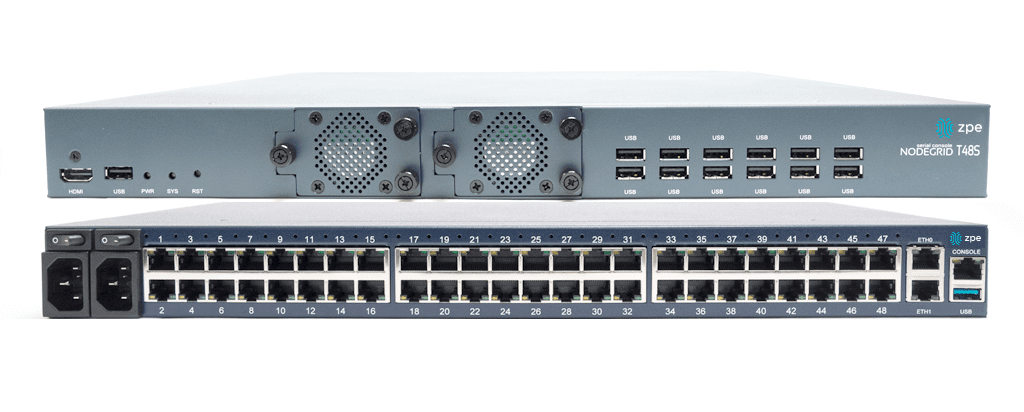 Nodegrid Serial Console
Nodegrid Serial Console is the next generation of console servers. Nodegrid Serial Console provides secure, hyperscale remote access to all IT devices, regardless of manufacturer.